South Asia Flood Response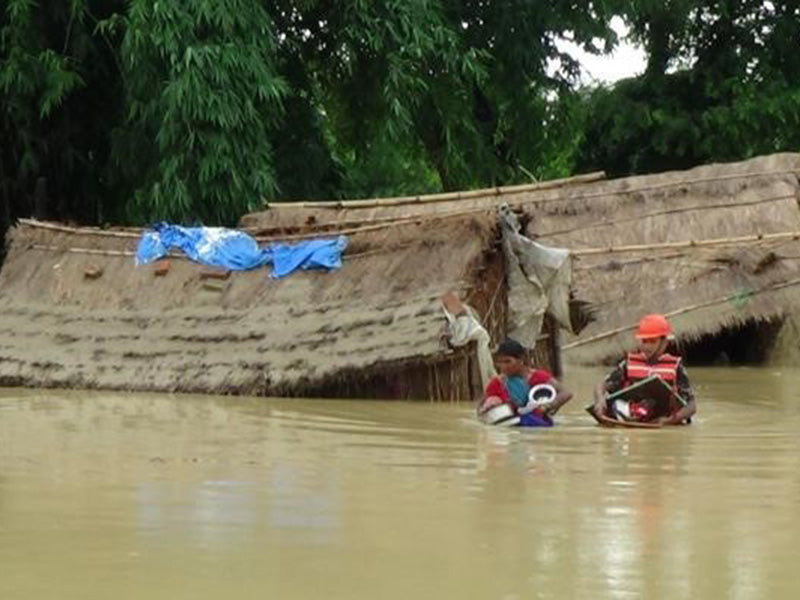 This year's monsoon has seen very heavy rainfalls that have created floods and landslides in Nepal, Bangladesh and northern India. There is increasing loss of life and major losses of livestock, crops and homes, and growing concerns about water borne diseases.
Gifts to our South Asia Flooding Response will be used to help local partner organisations respond with food aid, shelter and clothing to those affected.
TEAR's partner organisations are coordinating with government disaster response efforts to provide essential relief items.
TEAR's disaster response support will be taking place in communities that are already involved in long-term development work with our partners. In the midst of the suffering there is evidence that the development projects have made the communities more resilient to respond to the disaster; community groups are being mobilised to distribute goods and supplies to others in need, disaster response teams trained by the project are active, raised wells are continuing to provide safe drinking water.
How you can help
TEAR Australia is urgently raising money toward a goal of $75,000 to assist in providing essential relief support to affected communities in Nepal and India.
Donations made to the South Asia Flooding project will directly support these efforts. All donations of $2 or more are tax deductible.
Should the amount raised exceed what is required, TEAR will redirect gifts to similar humanitarian and development work. How TEAR uses your donations.
TEAR Australia ABN: 85 085 413 832
TEAR Australia is a member of Integral Alliance – a global alliance of 23 Christian relief and development agencies. TEAR Australia has been a member of Integral Alliance since 2011. As a member, TEAR is able to contribute resources quickly and efficiently to local partners as they respond to major emergencies. All Integral Members must be compliant with Red Cross and Sphere guidelines for humanitarian disaster response.
The majority of TEAR's programs focus on long-term development work, which can include disaster mitigation and preparedness to ensure that vulnerable communities are able to better prepare and cope with disasters.
What you receive
Choose from aor Default Title.
The amount you have donated will not be on the card.
Printed cards:

A blank envelope for your card.
Free standard postage within Australia or $7 for Express Post. Note: Please see our FAQs for updated delivery information during COVID-19. Express Post cards will normally be sent the same day if the order is made before 12pm AEST. Please note: Express Post only operates in these areas within Australia.
Note: We cannot ship printed cards outside Australia (but you can still order the digital cards).
Note: We do NOT write on your cards — they are delivered to you to personalise.

A tax-deductible receipt.
All printed cards and envelopes use PEFC certified paper and are produced according to ISO 14001 environmental standards.
Please see our FAQs for updated delivery information.
has purchased a gift for you from Tearfund's Useful Gifts:
South Asia Flood Response
About this gift: