Child Focussed Literacy and Numeracy Project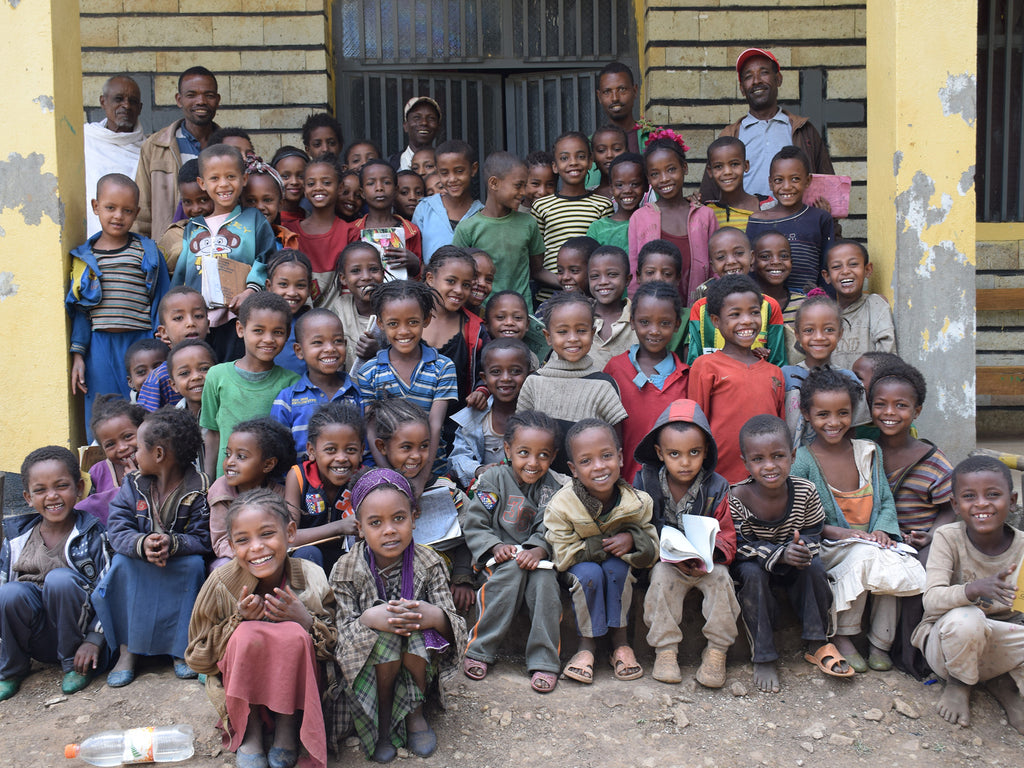 An innovative project in Ethiopia is helping children overcome barriers to enter primary school and reach their full potential.
Smile! It's class photo time for the children at this pre-school in Damboya district, Ethiopia.
Their pre-school is part of a 10-year project run by TEAR's partner the Ethiopian Kale Heywet Church (EKHC), designed to reduce the barriers to children entering the education system.
Children who want to enter the government primary school system in Ethiopia need a basic level of literacy, which excludes many of those who are poor and marginalised, especially in rural areas.
EKHC's Child Literacy Project provides a pre-school education for these children, equipping them with basic literacy and numeracy to enter the government school system. It works through local churches which recruit volunteers, who are then trained as education facilitators. The whole community is involved – from parents to community leaders. All community members are welcome to attend, regardless of religion.
Mothers in the community also shared their excitement about the project. One said: "Previously we worried about our children's education. We always talked about the issue. We prayed about the issue. God has answered our prayer. For girls this is a great opportunity. They have equal learning with the boys."
Another mother said: "We can see the difference between our older children who haven't had pre-school and our younger ones who do in their academic performance and in their behaviour and attitudes. As mothers we see the fruits of the project at school and at home."
About Ethiopian Kale Heywet Church
The Ethiopian Kale Heywet Church (EKHC) is a long-term TEAR partner in Ethiopia. Kale Heywet means "Word of Life". EKHC has been working for nearly 10 years on an education project designed to reduce the barriers to children entering the education system.
About Ethiopia
Ethiopia is the second most populous country in Sub-Saharan Africa, with the population amounting to 92 million. Poverty is widespread in Ethiopia, with 30% living on less than $1.25 a day and the country ranks 173rd out of 187 countries in the UNDP Human Development Index.
TEAR Australia has long-term relationships with partners in Ethiopia and the Child Focused Basic Literacy and Numeracy Project is now in its 11th year.
What you receive
Choose from aor Default Title.
The amount you have donated will not be on the card.
Printed cards:

A blank envelope for your card.
Free standard postage within Australia or $7 for Express Post. Note: Please see our FAQs for updated delivery information during COVID-19. Express Post cards will normally be sent the same day if the order is made before 12pm AEST. Please note: Express Post only operates in these areas within Australia.
Note: We cannot ship printed cards outside Australia (but you can still order the digital cards).
Note: We do NOT write on your cards — they are delivered to you to personalise.

A tax-deductible receipt.
All printed cards and envelopes use PEFC certified paper and are produced according to ISO 14001 environmental standards.
Please see our FAQs for updated delivery information during COVID.
has purchased a gift for you from Tearfund's Useful Gifts:
Child Focussed Literacy and Numeracy Project
About this gift: